STRATEKNO
Company Management System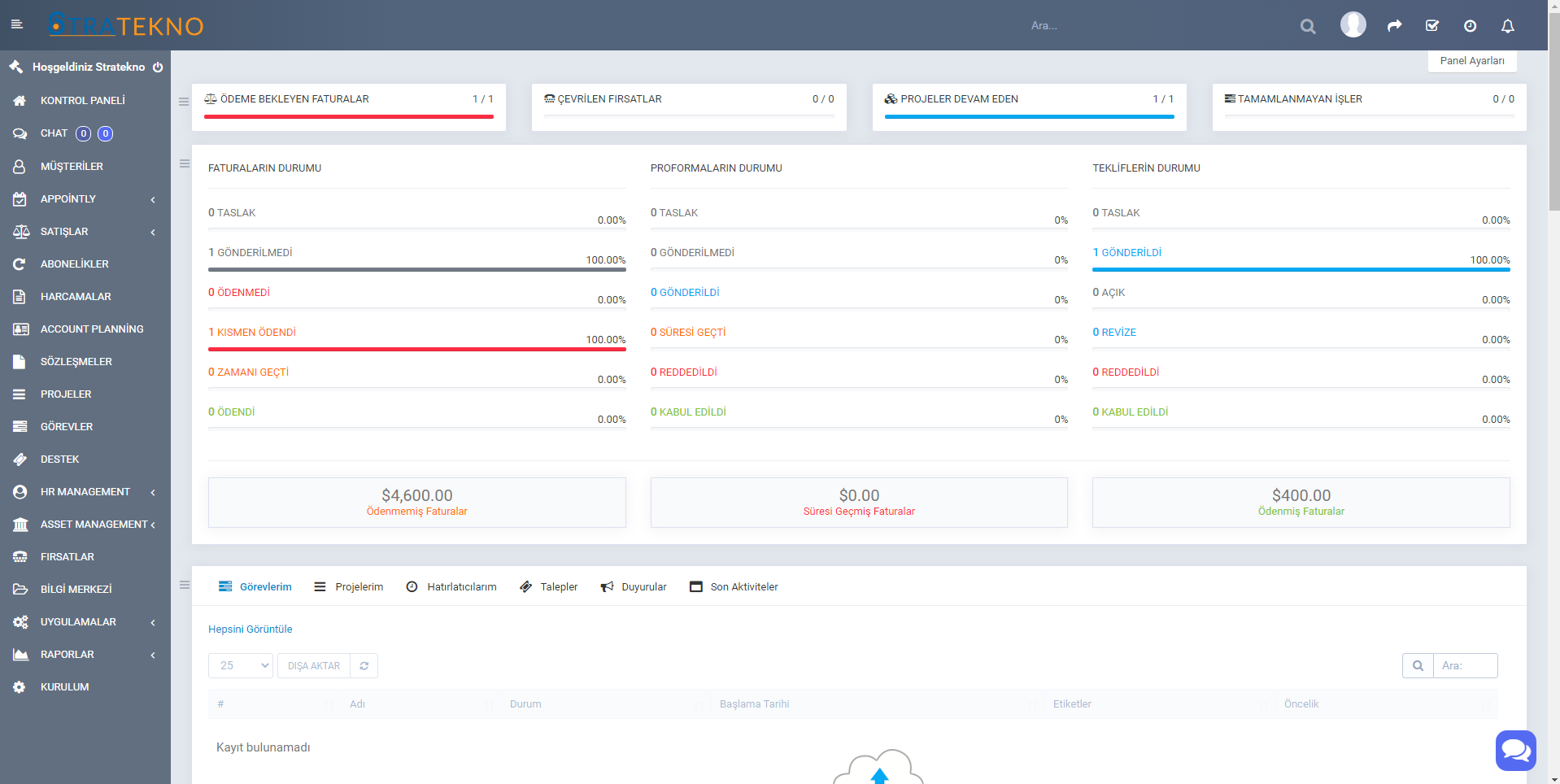 Our business develops, flourishes as it develops, gets harder as it becomes beautiful. In this case, it is necessary to benefit from the developing technology for the complexities that occur in management. Who took care of who and when? Who are your current and potential customers? How is your employees' job tracking? Contracts, invoices to be paid. It is a company management system that can be accessed at any time from a computer, mobile phone or tablet.
In total there are over 200+ features. As a result of our company motto which opposes the limits, there is no limit to the number of users or features of STRATEKNO. You can create unlimited user can benefit from all the features. It is a 100% user friendly and extensible company management system thanks to its flexible usage structure.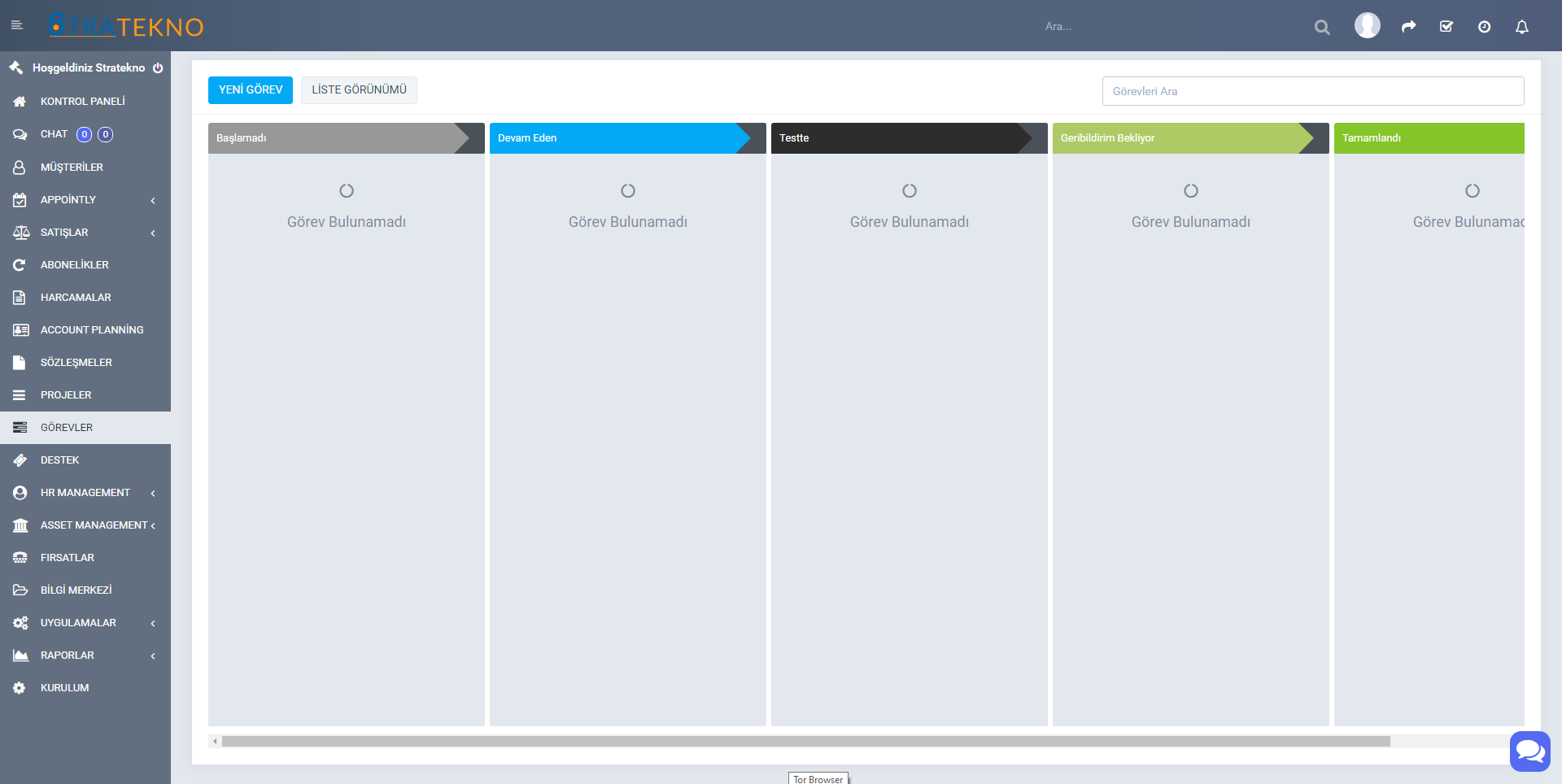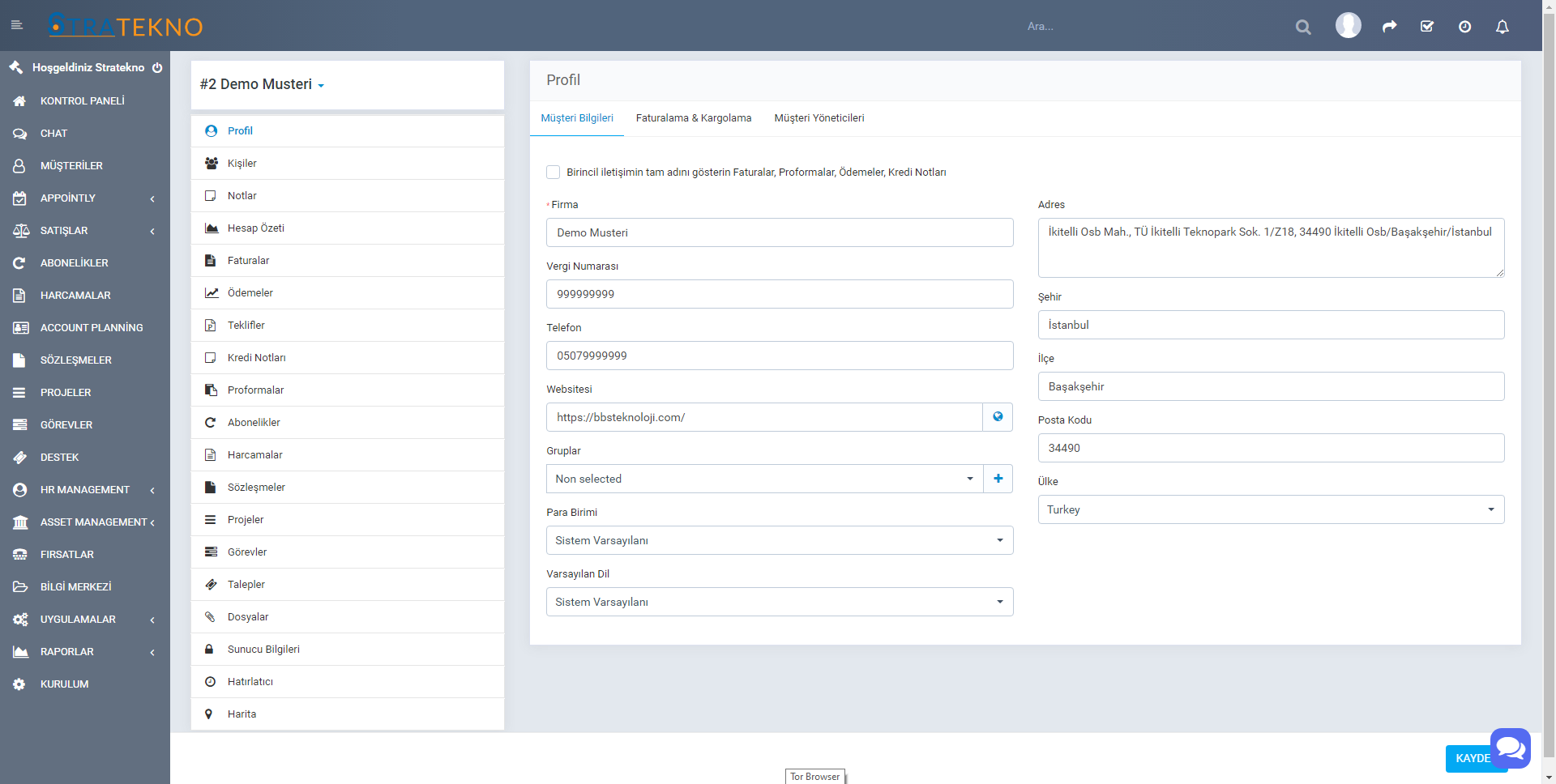 THAT'S NEVER
A COMPREHENSIVE CUSTOMER PANEL
Unlimited number of customer creation, Grouping customers, Customer and comprehensive company details, Customer customer creation comprehensive customer information customer notes, account statements, invoices, payments, offers, credit notes, proforma invoices, expenses, contracts, projects, tasks, transmitted by the customer requests and files sent to the customer, etc.
WITH SALES PANEL
STRATEKNO
Prepare the healthiest offers to your customers under the Sales tab, set pipeline views, change their status, view them in pdf easily. Send your proposal to your customer.
Müşterilerinize kolayca ve sınırsız sayıda proforma fatura kesebililir müşteri paneline gönderebilirsiniz.
Kolayca FATURA kesin fatura ile ilgili gelen ödemeleri tarihleri ödemenin kimin tarafından yapıldığı alacak miktarının ne kadar kaldığı gibi tüm soruları kafanızdan atın.
STRATEKNO'ya kayıtlı müşterilerinize özel kredi notları belirleyin.
Sınırsız sayıda firmanıza ait ürünler ekleyin listeletin satışlarını yapın.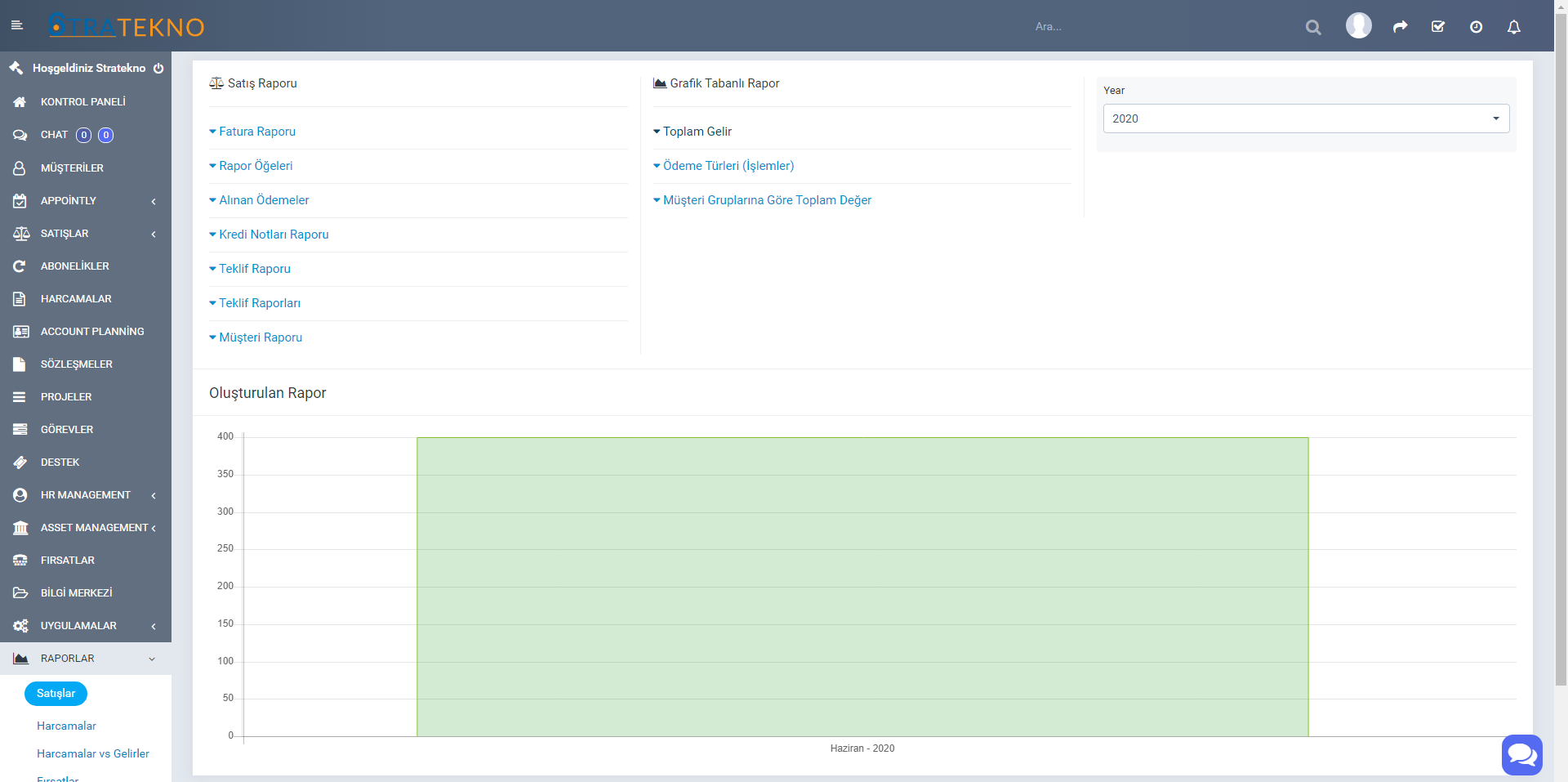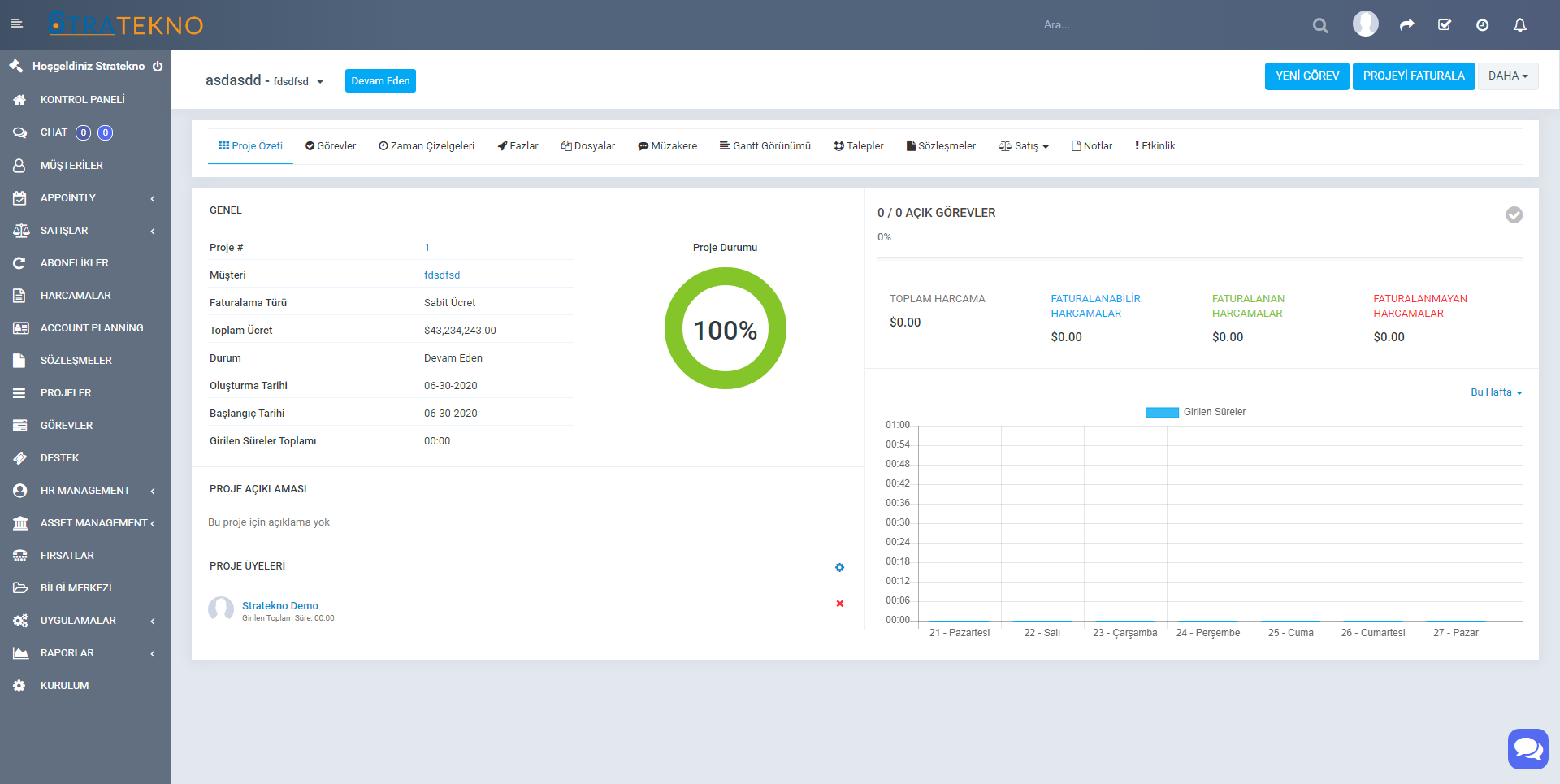 FOLLOW YOUR BUSINESS EASY
stratekno
Thanks to the Projects tab, you can create an unlimited number of projects for the companies you work with, select the personnel to work in the project and set up the organization chart.
Projenin ne kadar bir sürede tamamlanacağı yada şuanda ne aşamada olduğunu kolayca takip edin. ayrıca her projede olan proje özeti,görevler,zaman çizelgeleri,fazlar,proje ile ilgili dosyalar,projenin forumu,müşterinin talepleri, projeye harcanan toplam ücret gibi değerleri kolayca inceleyin.
ORGANIZATION OF YOUR COMPANY
TASKS
With the Tasks tab, you can easily list your communication and everything you need to do within your company. He can assign new tasks.
You can choose any person as an auditor. By creating tasks, you can specify everything your staff needs to do in the form of a checklist item.
And you can manage your company's organization without interrupting anything, create repetitive tasks and list everything that needs to be done every day or monthly.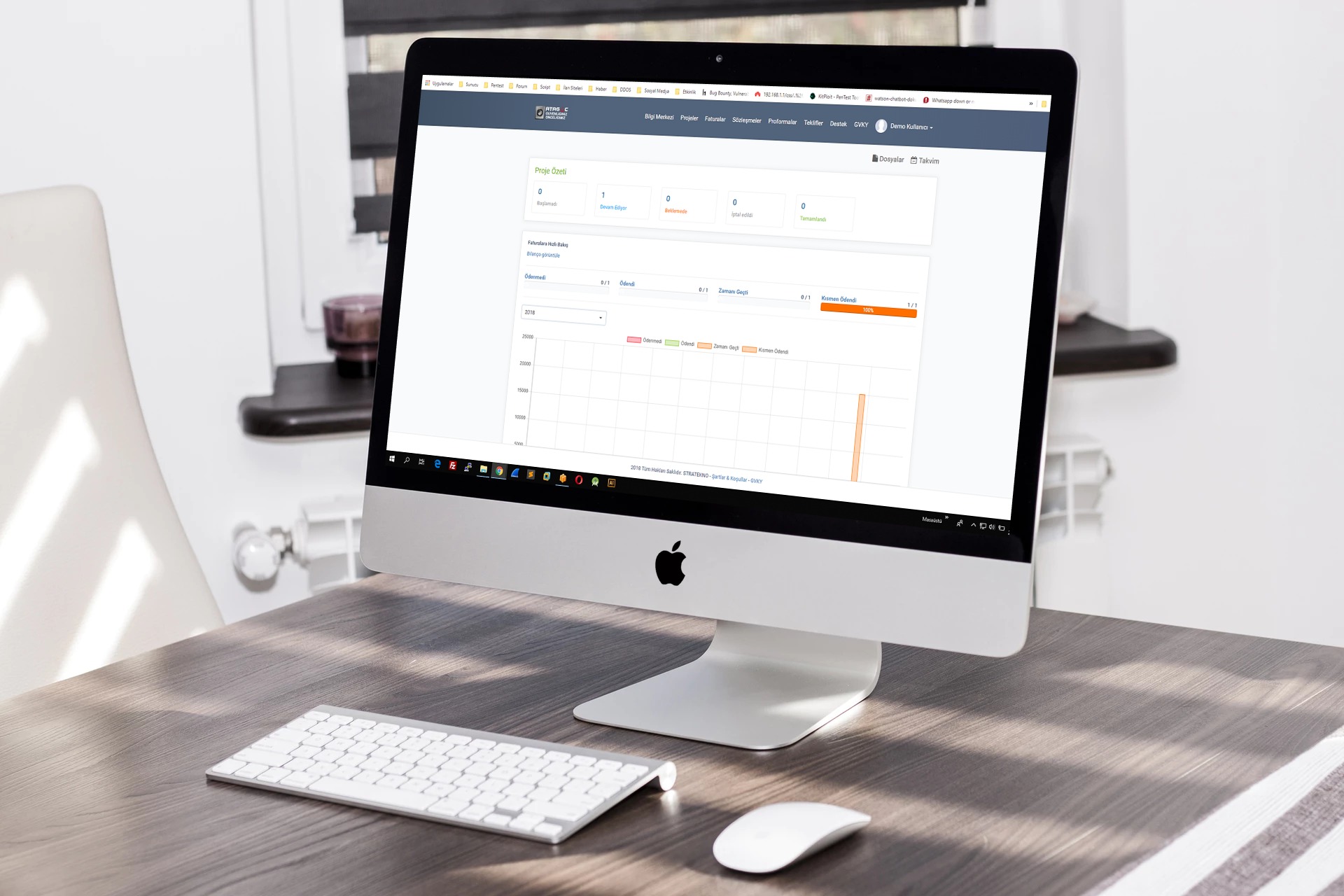 A Few Features
STRATEKNO
Projects


The Projects module is a tab in which the details of the projects carried out by your company and their stages are recorded.

Messages


The private messaging network of the registered users allows the necessary communication between the personnel through the system. They can do group interviews.

Finance

Invoices is the tab where we can create invoices, input the invoices that are issued as a result of the works done and download invoices.

Raporlar

Raporlar modülü sayesinde şirketinize ait tüm verileri kolayca ve anlaşılır bir biçimde raporlayabilir şirket işleyişine hâkim olabilirsiniz.

Department

Easily create departments within your company. Set authorizations for the department.

Potential Customer


The potential customer module has already been contacted and the news is the expected customer module.
STRATEKNO is a 'Company Management System STR that facilitates the hierarchical planning of the works within the company and the follow-up of the assigned tasks.
Thanks to the communication between the units, you can reach the solution quickly without interrupting the work flow by making the necessary demands from the related departments.
BBS TEKNOLOJİ